Heya!
So I thought it was time to write another blogpost regarding what I've been doing lately. So generally I haven't spent too much time on the Cyberpunk scene, I've just been doing small stuff here and there that I've found fun/interesting since I've been somewhat swamped in work and other things BUT I have made some things but first up:
More information about my scene
It's completely rendered in real-time in Unreal Engine 4.
It's real time dynamic lighting, no RTX-features.
I'm going for a stylized look. (influenced by animé) I don't want to make it realistic.

Character is cel-shaded with no baked textures, only colored polygons.

I'm currently not doing any heavy production workflows, ie no high-poly/low-poly baking etc etc.
Flying Cars VFX 
- Mesh Emitter + Lens Flare
What it does is take any mesh you feed it and emits them as mesh particles. These have an attached lensflare to them as well and they just push them in a certain direction. It's probably the easiest way to go about this type stuff.
I also have lightning strikes going on around the scene with a big light to add more to the mood of the scene.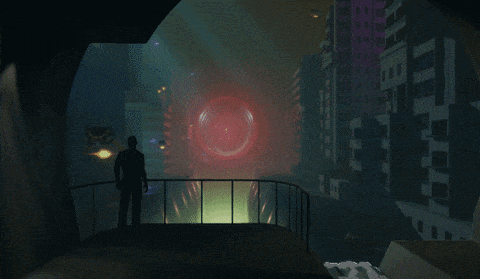 Cable Physics
Physical cables that have a start-point and an end-point. They conform after the COL-geometry around them.
Makes it easier to get natural looking cables hanging and lying around. For more elaborate setup a mesh-spline is probably the better choice.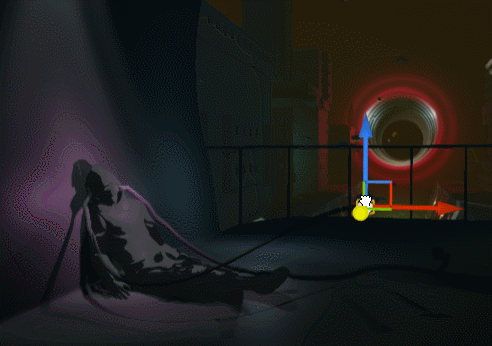 World Location Pulse Emissive
I've used this before, this world location pulse is a material-function that I can plug into post processing, materials or lights. It allows me to set a point in the world and have a pulse-be generated from that location . That pulse I can use as a mask to do different cool things. It's sometimes handier to use if you need a pulse originating from a location spreading in all directions.

Progression shot
So I decided to show progress from even earlier stages of my blockout, my first post showed a couple of shots in since I felt like there wasn't really much to show at the moment but I also thought that some people thought appreciate to see the whole thing. So with every blogpost moving forwad I'll show the full progression.

Latest Shot
Below is the absolutely latest video-shot of my scene . I still have lots to do but I'm trying to take it easy and not kill myself.
"
A "short" list of stuff I still have to do.
Fix the scale issues I'm currently having, need to re-adjust things now that I've decided to show more in my scene.
Add more opportunities for story-telling in the foreground and don't be afraid to change things up to make it look more interesting.
Probably add rain or something else to increase atmosphere and mood. My only worry is that it might end up too noisy.
Figure out a better design for Character Helmet
Figure out a better design for the power-generator he's jacking into
Add more detail to the foreground sewer opening
Add more detail to the circular opening in the background
Actually do a pass on the buildings
Add huge power-lines from the green area below leading to the circular red shape.
Figure out VFX for the power-lines.
Add more car variations to the Flying Car Mesh Emitter.
Make small detail props to place around the foreground

So there you go :)
If you have any questions let me know!

Warping out!

/Chris Radsby