Hello!

It's been a while since I last posted , I thought I'd give some updates on what's currently happening!
So I haven't really done a lot of work while I've been on "Hiatus" trying to relax, though I'm not sure I can call it that since I have still done a bunch of different art and tech related things.
Oh well onto this!
 This awesome artist over here Justin bought my artwork!!
Artist: Justin Myles Emerson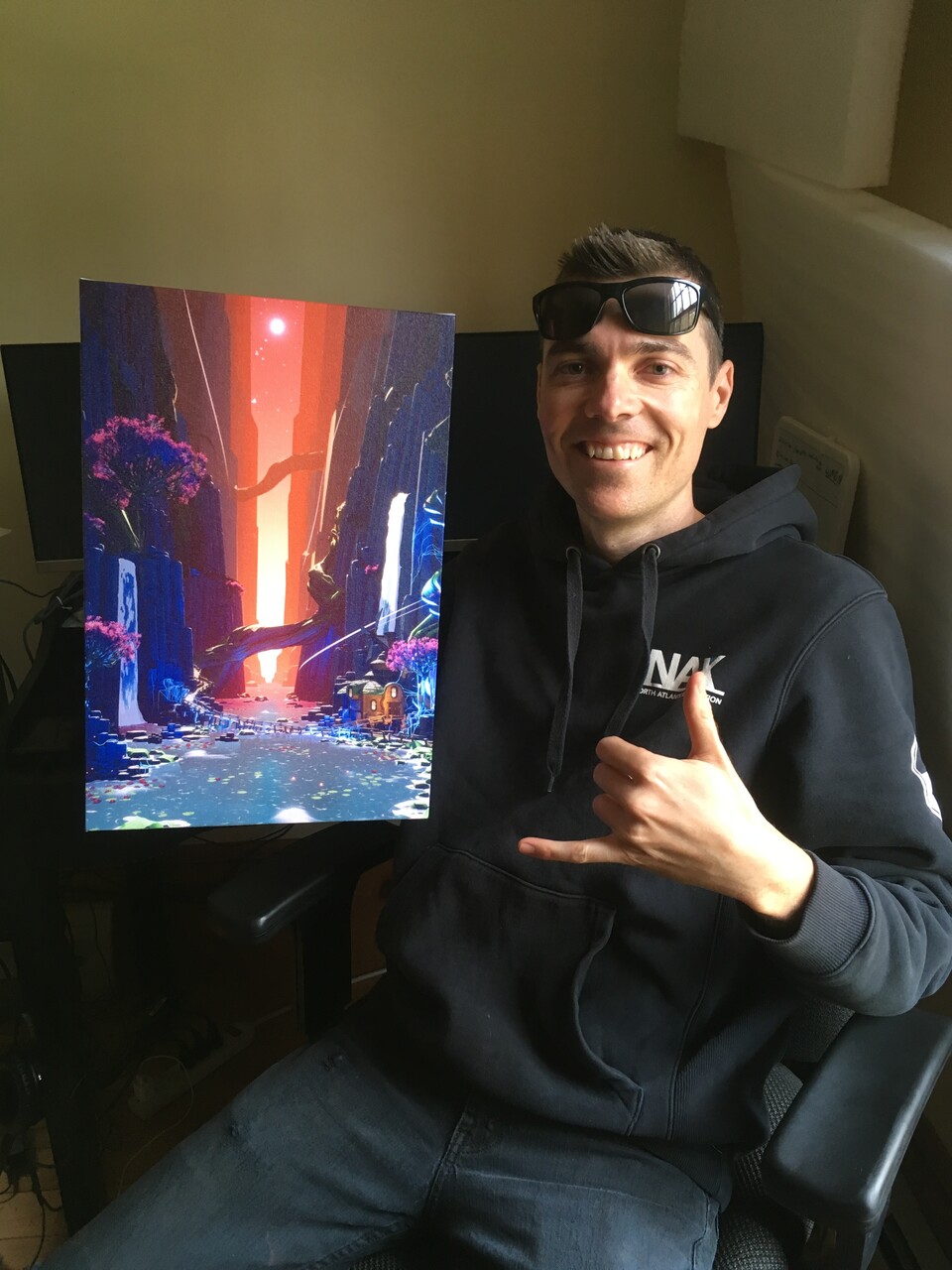 and he also landed a job working on Spellbreak which is super sick :) Well done Justin!
So what's happening with Project Legacy?
Well I've been doing some smallwork in the Desert Region, figuring out building-designs materials and colors that I like. I've settled on a mute grasscolor that I like that would allow plant and other things to stand out more with brighter more saturated colors. I still want the world to feel kind of primitive in a sense and then later on contrast it with some other hi-tech things but we'll see when we get to that :)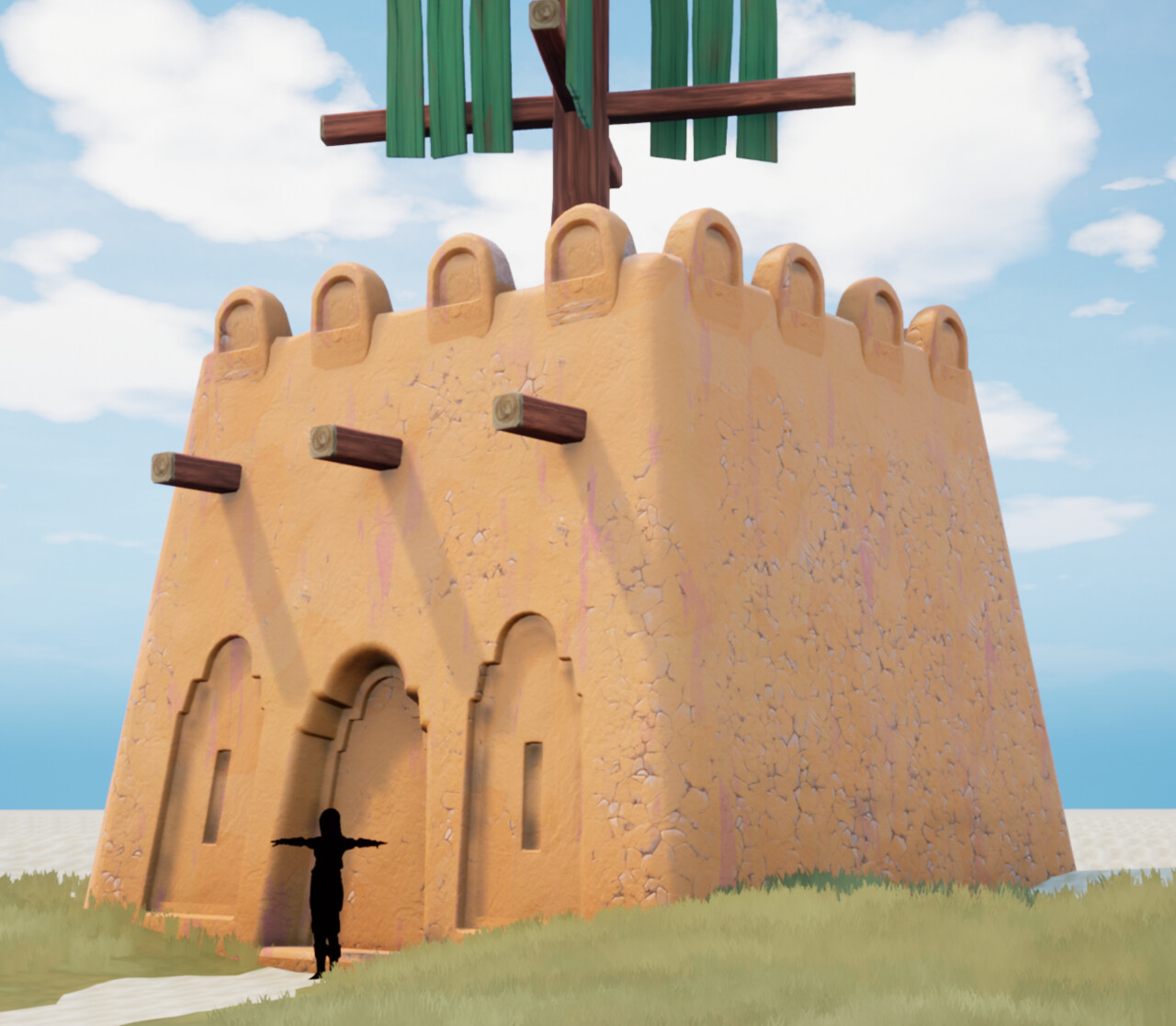 I also decided to surround the farming areas with walls, I realized however that modular walls wouldn't do so I decided to go all in and make sure I make use of mesh-spline instead. Wiggle wiggle!
Here is some of the composition work I'm trying out for the desert-region city buildings, so far it's early days but I like the look of it so far.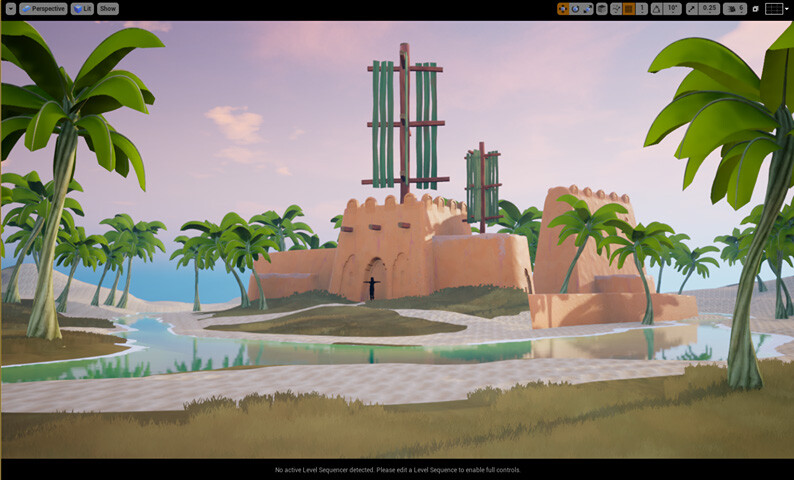 Procedural Foliage
So a while ago I decided to make sure I use the procedural foliage tools that unreal has and I gotta say they're very powerful. Though still have some quirks however, like, I would love if they could detect static objects and not place them inside of them. I thought that a solution would be to blueprint all my objects into groups and then have a foliage blocker volume inside the blueprint as well but nope.
It doesn't really work, so that one kinda went to the top of my priority list. Right now I've figured the best way to deal with that fact is to use bigger volumes to cover certain areas, then have other volumes with higher priority to do different types of vegetation + different blocking volumes in areas I want to do manual set-dressing.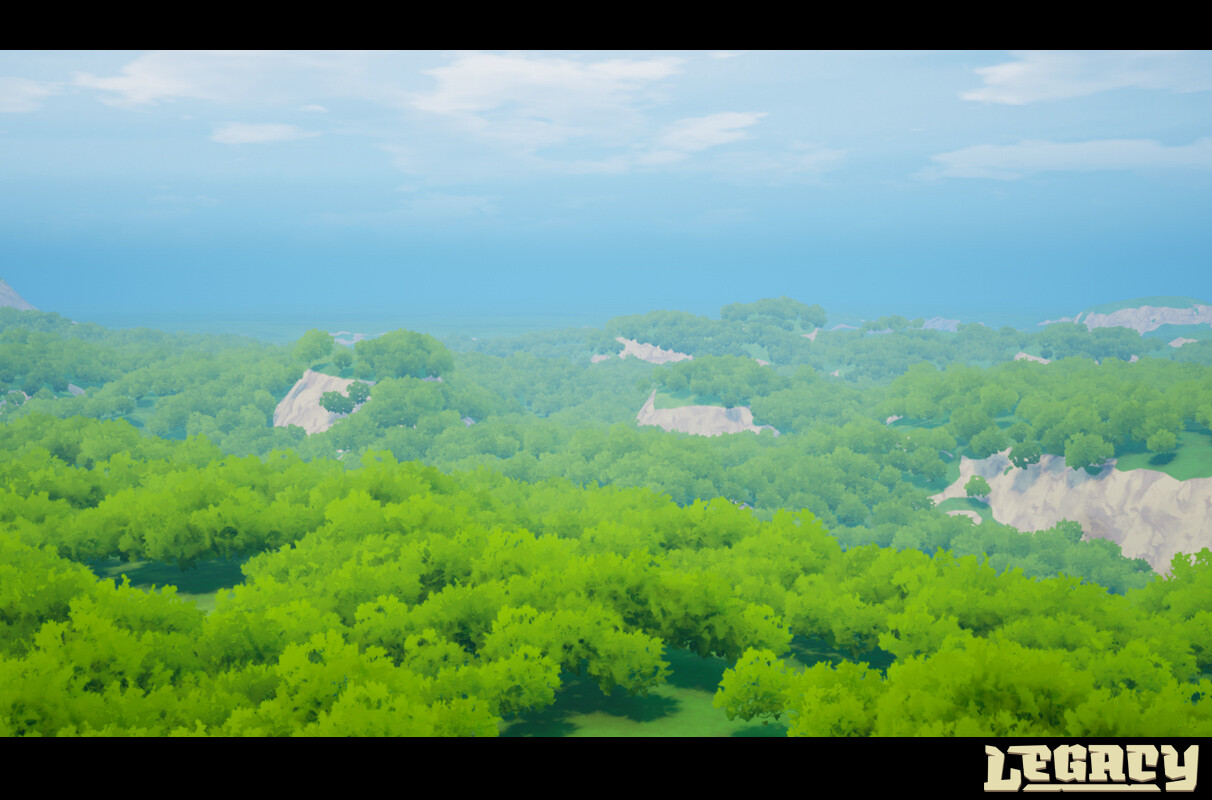 Here is a view from above in the grassland area so far, I've currently got trees growing the water areas since there are no fast and good way to add blocking volumes where I want them. I'm going to have to figure out some solution for that instead but for now it would just mean I would make sure the water bodies have their own volumes. The volumes being boxes however makes my life way hard. 
It's 2019 , polygonal convex volumes please!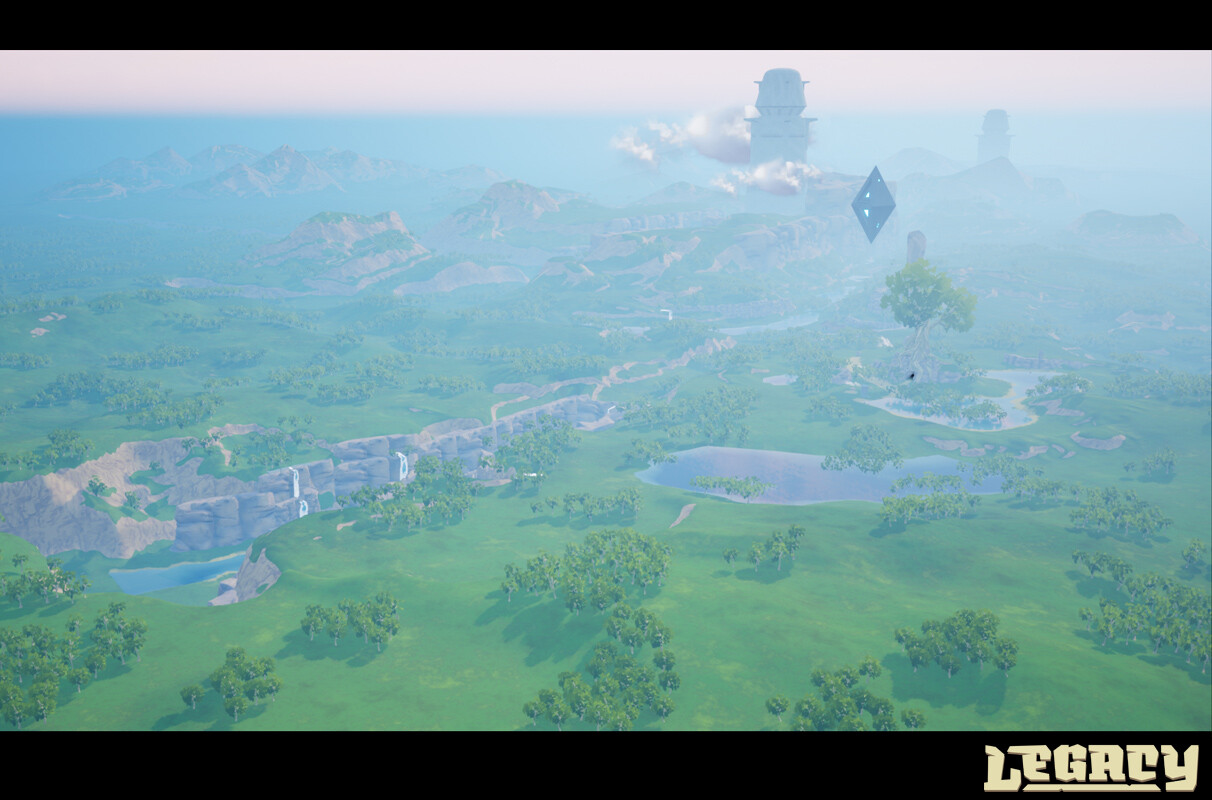 More Gradient Mapping O_O
So in another test, I learned from my good friend Kunal (Tech-Artist) about Gradient Mapping that doesn't only take the U-axis into account but they V-axis of the texture as well. I used a 64x64 ramp texture (seen as a tiny pic below next to the text) to completely to create all the color variation of these textures here.

I tried it as a test to see if the workflow would be better. So what I concluded is that it's more efficient in terms of performance, however, much less versatile when you want to try out colors quick. The way it works is that it looks at two grayscale images (heightmap + modulation mask), one grayscale image basically reads what color it should be in the U-axis, the other grayscale image (modulation mask) reads from the Y-axis on the same ramp.

These grayscale images could potentially just be packed into one texture and then you could use different gradient ramps for all of your different assets.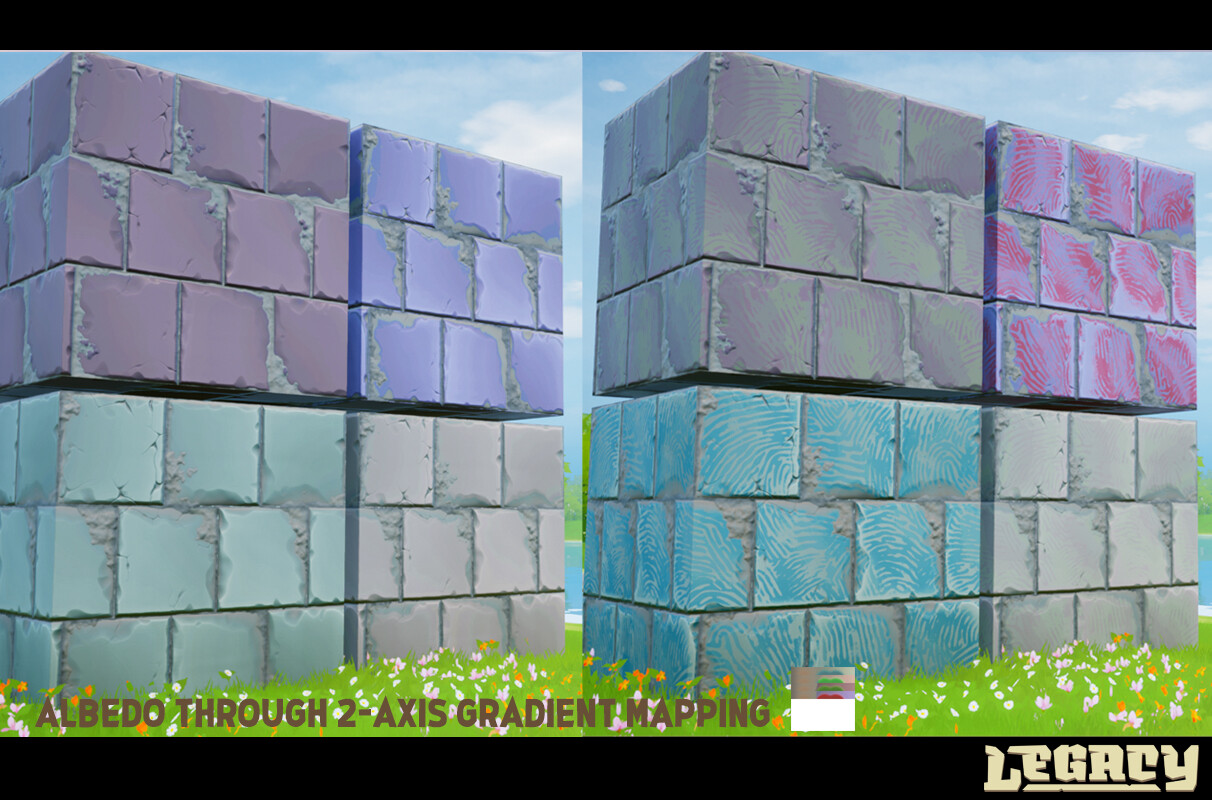 Right next thing, character modeling & shading.
So I've also started thinking about what kind character I'd like to run around in the world with so I decided to start modeling a character to use. Right now the only thing that pops into my mind is this:
Androgenous look 
Masks that could have different types of decals carved into them.
Probably need something more interesting than a hood, probably need more of a headdress of some sort
Medieval Simple Clothing + Accessories to make it look more interesting
Simple Cel-shading without edge-lines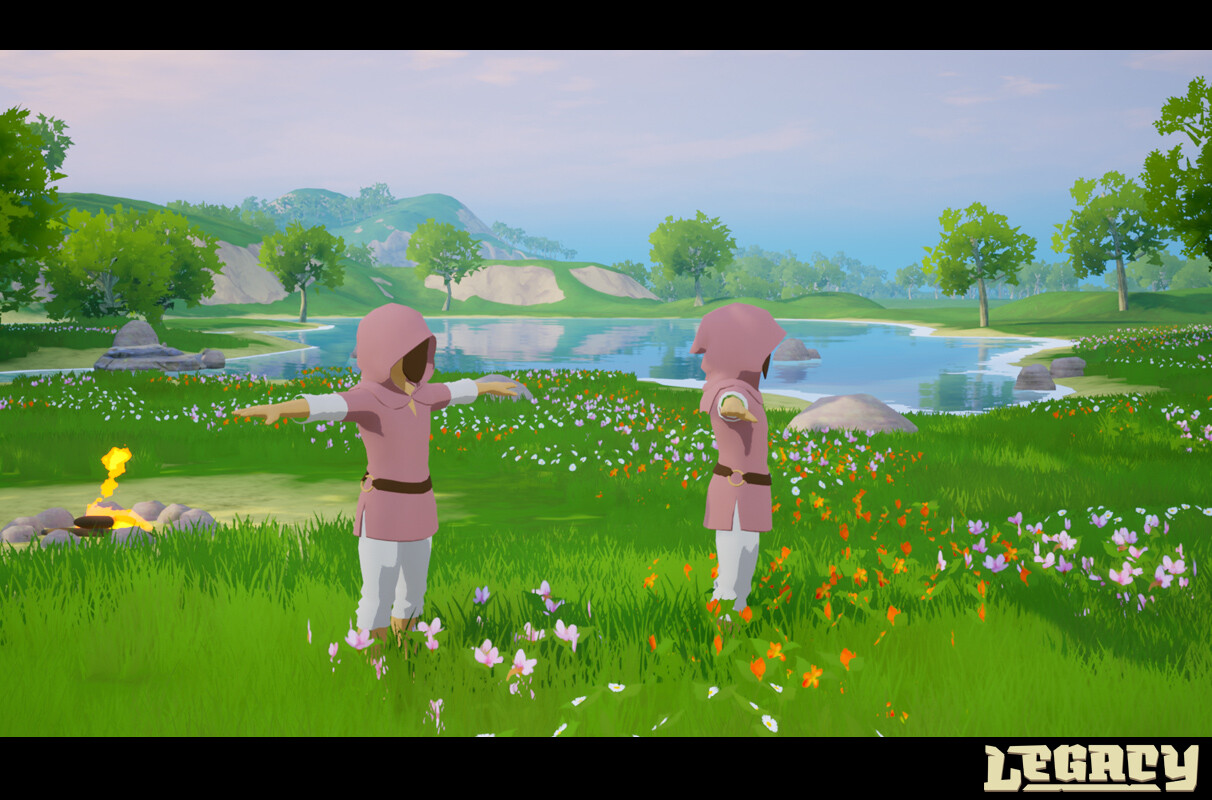 So I also did some lunch-time zbrush sculpting and quickly baked out a 256x256 texture in substance painter for this mask below. Since it's just a test I'm surprised how nicely and quickly this is to make these days. Since Procedural Texturing is a thing these days it also surprise me how efficient you can be going back and changing your HP and LP and the UVs and still bake it out and have everything textured immediately.

In the olden days if you changed the UVs you'd have to spend so much time fixing everything every time, these days it doesn't really matter if you've planned your procedural texturing properly and don't do too much custom masking early.
So what's next?
Well right now I'm just figuring and trying things out. I just started my summer vacation so you'll probably see some more blog-posts from me.

Oh well, until next time!

Warping out!

/Chris Radsby