Hey Guys!

Lately there has been a lot of interest in me and the Mentorship I'm running over at The Mentor Coalition.


EDIT: I'm currently not running a mentorship at The Mentor Coalition. If you're interested in me mentoring you and teaching maybe consider my patreon? https://www.patreon.com/chrisradsby but also you can contact me here on Artstation and we can talk about things and potentially set something up!

It all started with the most humble and awesome Stijn Van Gaal and the Article that he wrote for his fantastic Italian Alley piece.
Coupled together with Kieran Goodsons lovely blogpost it's been a lot of great impressions of my Mentorship out there which is great!

The thing I would like to really highlight though is that even though guidance is really valuable, speed you up and can really help you get to the next level, it's really important to remember that these guys have invested a lot of hours into their craft and in my opinion,  Deserve All the Praise generated from this type of attention.
Now I don't mean to undersell myself in anyway but it's important to remember that:


Progress = Time Invested


None of their successes would've come if they didn't work spend the time on improving and that's the stuff you don't see everyday when you browse artstation, or browse social media and see updates about other peoples successes. The blood sweat and tears. Which again is why I want to make sure to highlight this:

I can only show you the path then it's up to you to walk it.

And this is true for all forms of Mentorships or Coaching. It's never easy but you have to be very critical of your own work, be willing to listen and take instructions to make the most out of Mentorships. It can be very rough for people sometimes to learn their weaknesses and be told to deal with them. But generally speaking with your Mentor about these thing is exactly what will help in understanding how to improve.

Ultimately the difference between the people who succeeds and don't is the amount of honest time spent put into their craft. The seriousness they bring every day to their workstation.


Becoming professionally skilled in your craft needs you to bring a professional attitude towards your craft.


It basically means that, by having a professional attitude towards your craft you take it seriously and thus schedule your art-time. You make sure you leave room in your day to improve your art and you tackle it with a professional attitude.



The Bar for Quality

Alright so let's talk a little bit about the bar of quality, in Kierans excellent blogpost you can see some of the bar that is needed to get hired in this industry but It's also important to realize that the skill-level even between these projects are vastly different and I think that applies to all of us: We're all better/worse at different things however you need to reach a certain bar to start being considered on a professional level.

Let's use this quick mockup that I made of a Radar-Chart Diagram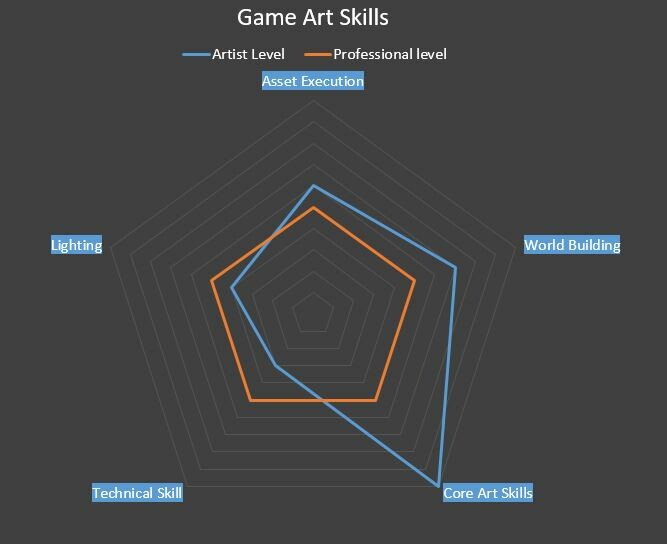 A mentor can help you guide you improving your strengths and deal with your weaknesses, it's generally not something you get taught in class or even easy to learn from community-based learning. The main problem is gauging where you are currently at, and what areas you need to focus for the biggest impact in your art.
Looking at all the juniors getting hired they are all good at different things but they all have achieved professional level in most if not all categories.

There are some exceptions to this, an overabundance of one thing might actually make up for the fact that you're lacking somewhere else and if I were to spend some more serious time into this then you could make charts for different companies values. All companies have different requirements or things they value.

Me as a Mentor/Person I value:
Hard Work, Creativity and Artistic Skill more than I do World Building, Technical Skill or Asset Execution Skill.
Because some things are easier to learn than others.
The Importance of Community


I've always though that some of the best ways to learn is to engage with a community trying to climb the same game-art mountain as everybody else. I think this is the most valuable type of learning you could do for yourself, is to join a community with like-minded people , all trying to improve together.

The major pluses being that they help you learn, let you know your weaknesses and you become friends with amateur artists and professional artists all over the world.
Both the Dinusty Empire and The Mentor Coalition have fantastic discord communities where you can share your art and learn from other like-minded people.
Mental Health
Coupled together with Hard Work , seemingly impossible high quality bars for Art it's important to remember that your own mental health is really important. Which is why I'd like to also highlight it as an issue in this industry as a whole. When decide to engage in projects with the intention that the project is supposed to get you hired it's important to actually choose the right type of project to do and learn better ways to be more efficient.
This is something you can learn but it's also something that a community or a mentor can help you with.


Not all aspects of your Art has to be perfectly executed. 


There are shortcuts that are valuable time-savers and sanity checking your production times is a good way to realize if you will be able to make it or not. Ie if you have a 100 assets to make for your scene and you spend at least 3-4 days on each well then you still have 300-400 days worth of work ahead of you and it's enough to make anyone go insane.
Take care of yourselves, the industry can sometimes be harsh enough even without you putting all that pressure on yourself because the scope was too big :)
Alright, I think that's enough for now :) Don't want to badger you guys even longer.